10 Little Soldiers Counting Song borrows it's tune from the '10 Little Indians' so it's familiar and easy to pick up. It's excellent for number and counting practice and works very well alongside The Grand Old Duke Of York and our other marching activities for a soldier theme.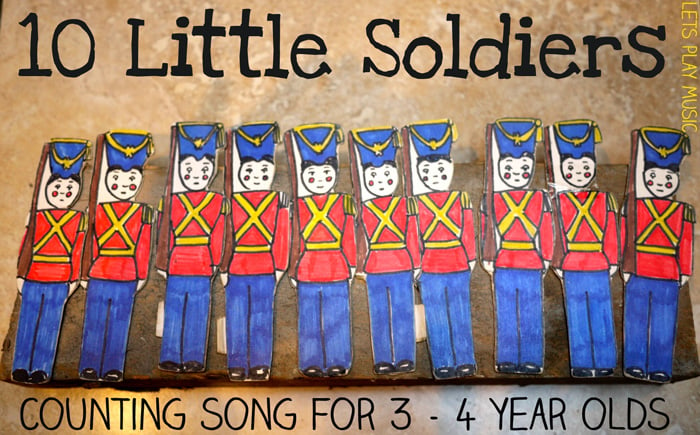 One little, two little, three little soldiers,
Four little, five little, six little soldiers,
Seven little, eight little, nine little soldiers,
Ten little soldiers boys!
Using the free printable above, mount your soldiers on some card and cut them out.
If you are doing this at home you could easily lay the soldiers out on the floor or table as you sing and count, but when singing this song in a group it works well if you take a large hard back book or folder and stretch a thick elastic band across the back cover. Stand the book up, holding it with the spine facing up towards you and use the elastic to slot the soldiers behind one by one, so that they stand up on their own. Alternatively attach some velcro stickers to the soldier's backs and then use them on a felt board.
One way to really engage the children and add a little comedy to this song, is to explain that there is one soldier who is a bit lazy and can't be bothered to stand up straight to attention. Ask everyone to watch carefully to see if they can spot him.  As you sing the song and count the soldiers, make sure they are all standing nice and straight but when you get to the last one, place him upside down. This is a great way to get everyone involved and  normally causes great hilarity as everyone loves pointing out the naughty soldier. After giving the soldier a strict talking to, you sing the song again, and this time he behaves himself, much to everyones approval and satisfaction!
Check out our Soldiers lesson plan for lots of lively Soldier  themed activities combined in a 30 min structured lesson, with step by step teaching notes and supporting resources.
If you enjoyed this post, come and join us on Facebook, Pinterest and Google + or subscribe to our free bi-weekly newsletter for many more musical ideas!
Get musical inspiration into your inbox!
Receive updates from Let's Play Music straight into your inbox!