Let's Play Music is just over two years old, and in that time the FIRST PIANO LESSONS has been so popular. There are lots of excellent piano resources out there that are perfect for older beginners, but these lessons are aimed specifically at the youngest and are designed to engage and encourage little ones while building the all important firm foundations for the future.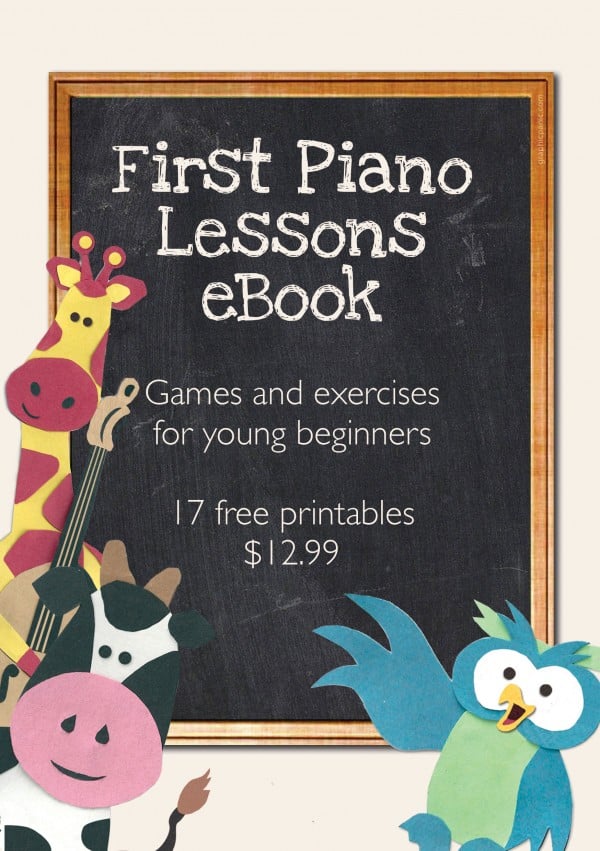 So today we are very pleased to announce The First Piano Lessons eBook Launch! If you follow the blog then some of the characters and ideas will appear familiar as these are the tried and tested methods which have proved so popular over my years of teaching. But there are also plenty of NEW and ORIGINAL games and exercises, which will be fantastic for supporting young beginners at home or excellent resources for teachers who are looking for some engaging material for their younger pupils.
THE FIRST PIANO LESSONS eBOOK
What's Inside
Some Tips: Before You Get Going
How to Get Started
The Easiest Way to Learn the Notes
Introducing the Note Family
Fingers and Fingering
Looking at the Music
Motivation: Practice Makes Perfect!
How to Plan a Beginner's Lesson
Useful Resources
 
Printables and Worksheets Included:
Animal Note Piano Keys
Blank Piano Keyboard
A5 Note Family Cards (US Note Names and European Note Names)
Small Music Notation Flash Cards
The Clock Song Piano Music
The Clock Song Worksheet
Finger Strengthening Exercise Poster: Up & Down The Escalator
Finger Strengthening Exercise Poster: Candyfloss
Birthday Cake Music Notation Game
Sliding Semitone Snakes
Spot the Frog
The Dice Game Practice Chart
Download your copy of the First Piano Lessons eBook worldwide today for $12.99.