Here We Go Looby-loo is a lovely circle game because it has simple movements that everyone does together as part of the dance. It's one of the easiest action songs and if your kids know the Hokey-Cokey then they'll recognise some similarities. And because everyone does the same thing even very young children are happy to join in and have a go!
Here We Go Looby-Loo
Here we go Looby-loo!
Here we go Looby- light!
Here we go Looby-loo!
All on a Saturday night! 
*
You put your left hand in
You put your left hand out,
Shake it a little, a little ,
And turn yourself about!
*
Here we go Looby-loo… etc
(chorus is repeated between each verse)
(repeat with other hand, each foot, and finally jump you whole self 'in')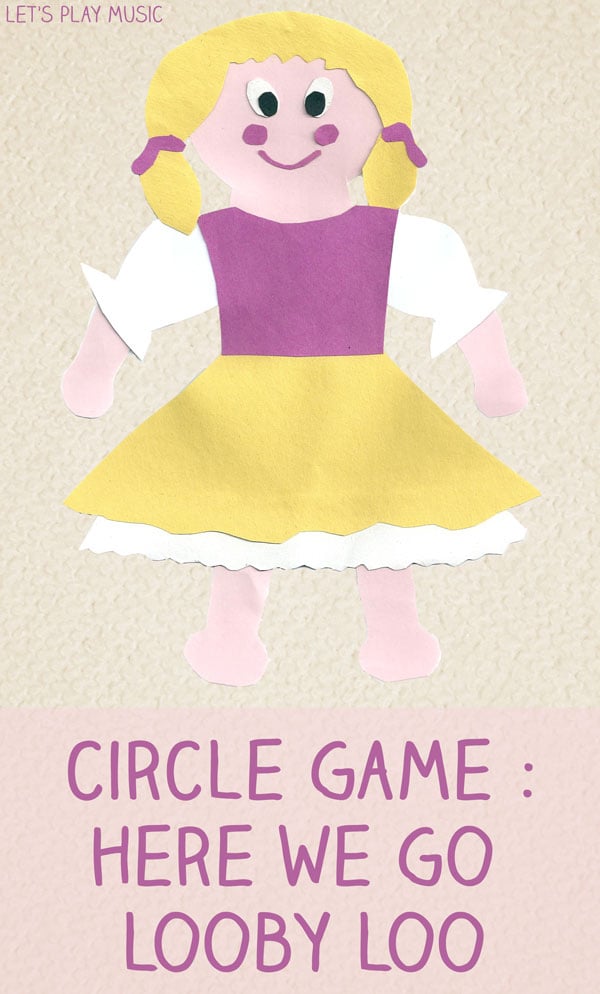 Here We Go Looby-Loo Activities
Everyone joins hands and dances around in a circle for the first verse, this then becomes the chorus as it is repeated between each set of actions.
Sing each action verse standing in a circle and then join hands again and go round together for the chorus.
Repeat until you have all shaken both hands, both feet, and finally your whole self, which you do by doing a big jump into the middle of the circle and wiggling your whole body!
If you have a large rag-doll, you can demonstrate the actions with the dolly and then she can be included in your circle dance. Little ones will be very keen to hold her hand!
For Free (easy piano) Sheet music to Here We Go Looby-Loo
Check out the I've Got A Body Lesson Plan for a fun packed, structured 35 minute lesson all about our bodies which also features Looby-Loo
If you enjoyed this post, come and join us on Facebook, Pinterest and subscribe for many more musical ideas!