The Fun & Friendly Way To Introduce Music Theory to Kids
It's been almost two years since I launched my First Piano Lessons eBook, and it quickly became clear that many readers wanted another eBook with a similar approach, but this time focusing on music theory for kids.
There are plenty of general music theory posts on this site, but not an area dedicated specifically to teaching music theory from scratch. A lot of readers also tell me that because there are so many posts nowadays that it can be difficult to know where to start.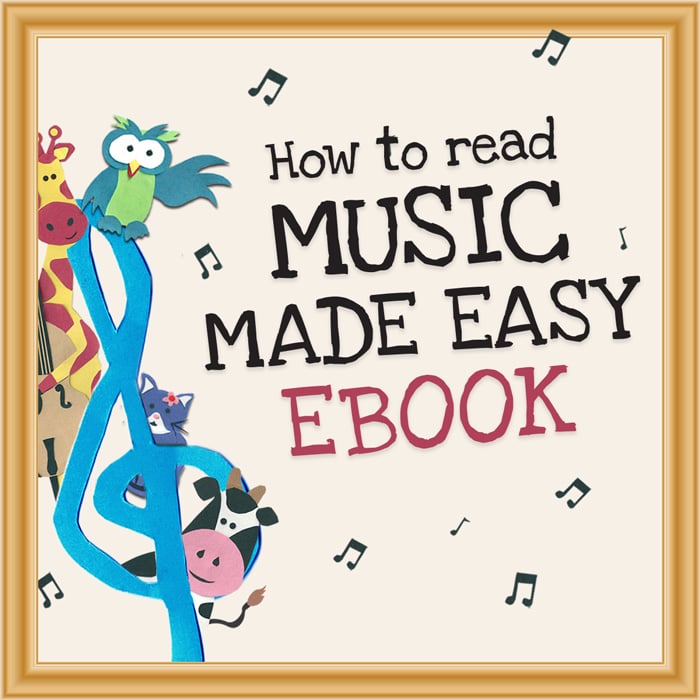 The How to Read Music Made Easy eBook brings together many tried and tested techniques, exercises and activities that I have found invaluable over the years. If you're a regular here, many of the principles and the approach will be familiar to you.
The eBook is packed with original games, exercises and fun music theory printables. It is designed for kids who are starting to learn an instrument, but would also be an ideal resource for the classroom, or any scenario where you are instructing a child in the basics of music theory.
How to Read Music Made Easy is built on the belief that learning music theory (like learning an instrument) should be fun, engaging and rewarding. It offers simple, child friendly explanations with attractive printable worksheets and flashcards. The dedicated resources provide plenty of practice without scaring off  younger or slightly hesitant beginners.

What's Inside How To Read Music Made Easy
Understanding The Staff & Clefs
Finding The Notes
Memorising The Lines & Spaces
Introducing The Note Family & Rests
Building Rhythms
Teaching Intervals
Help With Memorising Intervals
What Are Chords & Triads
What Is A Major Scale?
Introducing Sharps & Flats
First Key Signatures
What Is A Minor Scale?
PLUS 38 printable worksheets with games, quizzes, exercises & flashcards to reinforce the key principles in a fun way!
How to Read Music Made Easy – FAQs
Who is this eBook for?  
Anyone who is looking for a simple introduction to basic music theory  –  at both teachers, and parents.
What age are the activities/exercises aimed at? 
Young beginners of any instrument from 4 years old will love this fun and friendly approach.
How much musical knowledge do I need in order to use this eBook with my child/pupil?  
This eBook aims to explain the basics from the very start, so if you're learning with your child it will fill in any gaps.
What other resources do I need in order to be able to use this eBook successfully?  
There are lots of helpful related posts on this website and some listening suggestions on YouTube, so internet access would be ideal.
Can I buy a physical/printed copy of your eBook?
Not at the moment. The How To Read Music Made Easy eBook is a digital download.
How long do you recommend my child to have been learning an instrument before using the exercises in your eBook? 
It is best to start learning theory as soon as the child starts an instrument. You can select the appropriate chapters and activities as you go so they can understand the music that they are learning to play.
I've never bought an eBook before, how does it work? 
Let's Play Music eBooks are digital downloads and will be delivered to you in PDF format. You do not need a Kindle to be able to read them.
You can buy this eBook on any device and then download at your convenience. Depending on the apps you have installed and your operating system you might be able to go ahead and download on your mobile device, but if you have any doubts or problems, it is recommended that you use a computer to download and then share it to your mobile devices. You can read our digital downloads on screen or print it off. You can print the PDF files in one go, or just the printable resources at the back as and when you need them.