Little Bo Peep is a delightful nursery rhyme. It has a simple melody with a small range of only a fifth (So-Do) so it is perfect for when small children are just learning to pitch notes.
It tells the story of a Shepherdess who has lost her sheep and is searching for them. Little ones are always so delighted when she finds them in the end!
Little Bo Peep Lyrics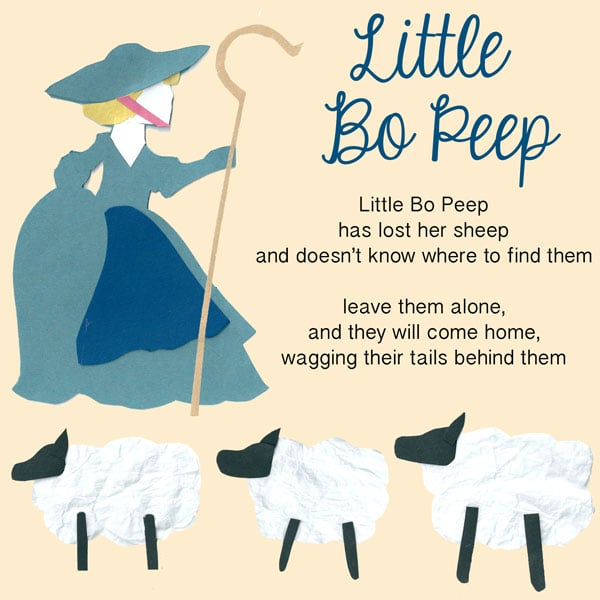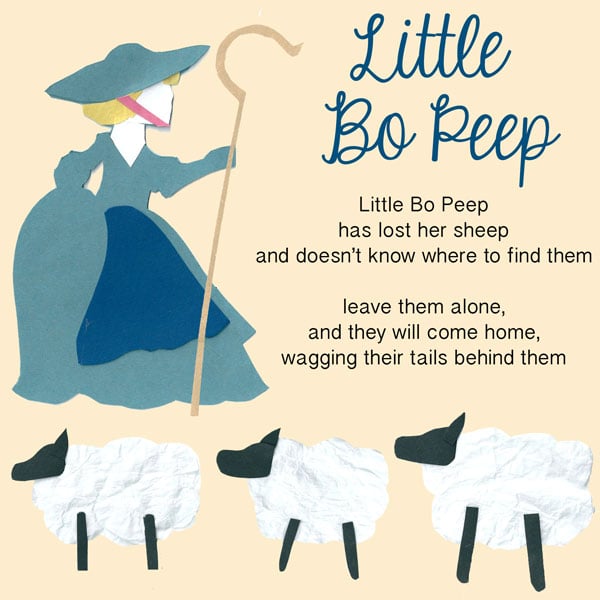 Little Bo Peep Activities
Play as a Hide and Seek Game
This song lends itself perfectly to a game of hide and seek. While you are singing the song one child can pretend to be Bo Peep. They close their eyes while the rest are the sheep who hide around the room.
Bo Peep then has to find all of her sheep, singing the song as she goes.
Act out a Puppet Show
Another way to play is to use a puppet or dolly and a little toy sheep.
The dolly turns her back while the sheep is hidden somewhere in the room. Then she has to find the sheep while everyone sings the song. It can be sung repeatedly until the sheep is found.
Using puppets in musical play is a great way to encourage children to improvise. This in turn is excellent for building confidence and language skills in addition to capturing their imagination and helping them to engage with the story.
If you can build up a little collection of puppets they can bring any song or rhyme to life!
Play on the piano
Finally, you can keep things simple by playing this traditional nursery rhyme on the piano for children to sing along. Print off the free sheet music below or by clicking here.
If you want to use Little Bo Peep as part of a Lesson Plan, take a look at my Sheep themed music lesson for inspiration!
Educational benefits of these musical activities
Encouraging creative and imaginative play through telling the story
Speech and language development
Building confidence through solo singing and improvised responses
Pitching notes, remembering the tune
Practicing the interval for a fifth (So-Do)