Kids love characters and stories! This eBook is a fun and engaging way to introduce musical notes in a way that really makes the theory stick.
In this series of 8 short stories, The Note Family live together in music land and go on adventures making new musical discoveries. It's great for introducing new musical terms and concepts, and children get so absorbed in the stories that they don't realise it's actually a music theory lesson.
I've used this technique for years with small children, and have found it to be highly effective in encouraging both understanding of musical concepts and engagement.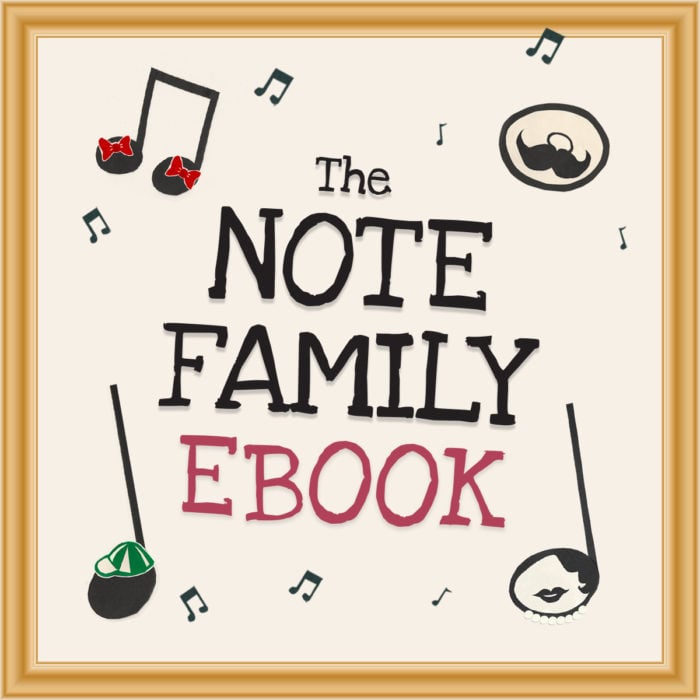 Teaching musical note values in this way becomes a highlight that children enjoy time and time again. Each chapter teaches a new topic such as note values, rests, dynamics and others. I often use these stories at the beginning of a class and then team them with related songs and activities to reinforce the learning throughout the lesson.
These eight stories are really only intended to get you started. Once everyone gets the idea, the kids love a chance to make up new stories and adventures for The Note Family, and you just slip in the musical ideas as you go along. It's a really good way to practice and memorise basic musical principals.
The Note Family Stories eBook makes learning theory fun with attractive printable worksheets and flashcards, which provide plenty of practice while keeping young beginners happily engaged.
What's Inside?
The Musical Note Family
Mummy Half Note Bakes Some Cakes
Finding The Beat
The Note Family Make Some New Friends
Exploring The Beat
Discovering Dynamics
The Little Eighth Note Twins Learn Staccato & Legato
The Note Family Go Hunting For Rests
The Slow Snail & The Quick Little Mouse
The Note Family Stories – FAQs
Who is this eBook for?
This is a collection of short stories which bring basic music notation and first lessons in music theory to life.
What age are the activities/exercises aimed at? 
Young beginners of any instrument from 4 years old will love the fun and friendly approach.
How much musical knowledge do I need in order to use this eBook with my child/pupil?  
These stories work very well in conjunction with the How To Read Music Made Easy eBook. I definitely recommend using them in conjunction with one another!
What other resources do I need in order to be able to use this eBook successfully?
There are lots of helpful related posts on this site and some listening suggestions on YouTube, so internet access would be ideal.
Can I buy a physical/printed copy of your eBook?
At the moment The Note Family eBook is a digital download only, so you can't buy a hard copy.
How long do you recommend my child to have been learning an instrument before using the exercises in your eBook? 
It is best to start learning theory as soon as the child starts an instrument, and select the appropriate chapters and activities so they can understand the music that they are learning to play.
I've never bought an eBook before, how does it work? 
Let's Play Music eBooks are digital downloads and will be delivered to you in PDF format. You do not need a Kindle to be able to read them.
You can buy them on any device and then download at your convenience. Depending on the apps you have installed and your operating system you might be able to go ahead and download on your mobile device, but if you have any doubts or problems, it is recommended that you use a computer to download and then share it to your mobile devices. You can read our digital downloads on screen or print it off. You can print the PDF files in one go, or just the printable resources at the back as and when you need them.