Those of you who have read lots of this website, and bought my First Piano Lessons and How To Read Music Theory eBooks will be familiar with the way I introduce music notation to children  –  through The Note Family.
For years, I introduced The Note Family to children through a selection of stories which, admittedly, I used to improvise depending on the class and the lesson I was teaching. Children of all ages loved them, and older kids were delighted to be able to make up their own.
But now, for the first time, I have put some down on paper! The Note Family is a story book  –  a series of 8 short stories which introduces musical concepts through a series of adventures in magical music land. Each chapter teaches a new musical concept, so they are perfect for helping kids to understand and to reinforce music theory.
The Note Family is a fun way to introduce new musical terms and concepts to children. It includes 14 kid-friendly printable worksheets and flashcards to keep young beginners happily engaged while making the theory stick!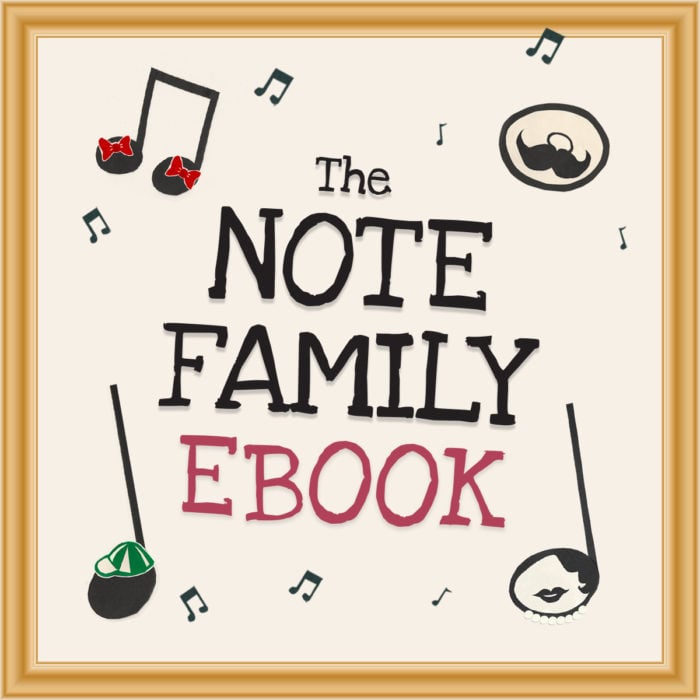 The Note Family eBook is available for $9.99 via digital download. This means you can download it right away no matter where you are in the world! It works particularly well alongside my How To Read Music Made Easy eBook and you can buy them both together for a special promotional price of $19.99.
What's Inside?
Introduction to The Note Family
Finding the Beat
The Note Family Meet The Note Animals
Exploring the Beat
Discovering Dynamics
Staccato & Legato
Hunting for Rests
Slow & Fast
What printables and flashcards are included?
Note Flashcards
Cake Note Values
The Clock Song & Note Values
Cake Flashcards
The Note Family Find The Beat
Note Naming Flashcards
Note Animals Sit On The Keyboard
Musical Expression Flashcards
Discovering Dynamics
Rest Hunt
Rest Flashcards
You can discover more information about The Note Family eBook over on the product page in our store.