With our Halloween Songs For Kids we aim to introduce all the fun of Halloween in a gentle way but without it being too scary for little ones. It features all the favourite halloween elements but in a kid friendly way.
It's Nearly Halloween is the easiest song in our collection of halloween songs because it doesn't have any particular dance or game. This makes it perfect for younger children so I usually sing it with some little knitted finger puppets.
The tune is of course borrowed from the well known 'Farmer's in His Den'. So it's very quick and easy for everyone to pick up and even the younger ones can join in the fun!
Halloween Songs For Kids
It's Nearly Halloween!
It's nearly Halloween,
Nearly Halloween,
Oh my, Hip- hooray!
It's nearly Halloween!
*
A pumpkin I have seen,
A pumpkin I have seen,
Oh my, Hip- hooray!
It's nearly Halloween!
*
(sung to the tune of The Farmer's In His Den)
(repeat verses with a scary witch, a flapping bat, a spooky ghost, big black cat etc.)
There are so many ways to make your own little puppets. You could use felt, card, or even recycled egg boxes and it makes a fun craft activity to go along with the song.
I found this really quick and easy idea for finger puppets on pinterest. Or alternatively you can use our free printable Halloween rhythm sheet below. Just mount the spooky characters on card and then attach them to lolly sticks – click on the link above to download and print.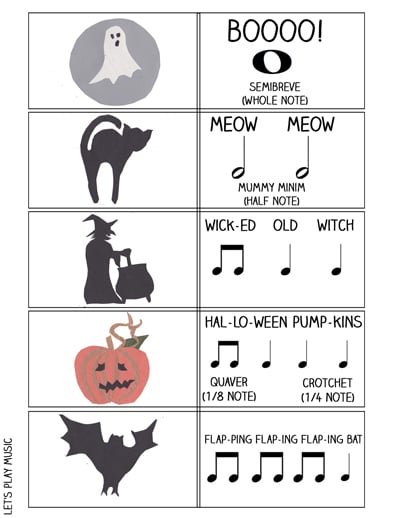 For lots more ghoulish Halloween inspiration, check out our Halloween lesson plan it's a 30 minute lesson of musical, spooky fun!