This Incy Wincy Spider Easy Piano Music is an excellent choice for little ones who are just starting piano. This easy version is slightly simplified to stay in the 5 finger beginner's hand position and the familiar repetitive melody is easy to grasp
Everyone knows Incy Wincy Spider, and it's always a great incentive to practice and play the piano when they know and love the tune.
Of course it is important for young piano beginners to play pieces that are completely new to them, so that they have to work out the notes and music and they don't just rely on memory. But it also gives such a good sense of achievement and satisfaction to play something popular.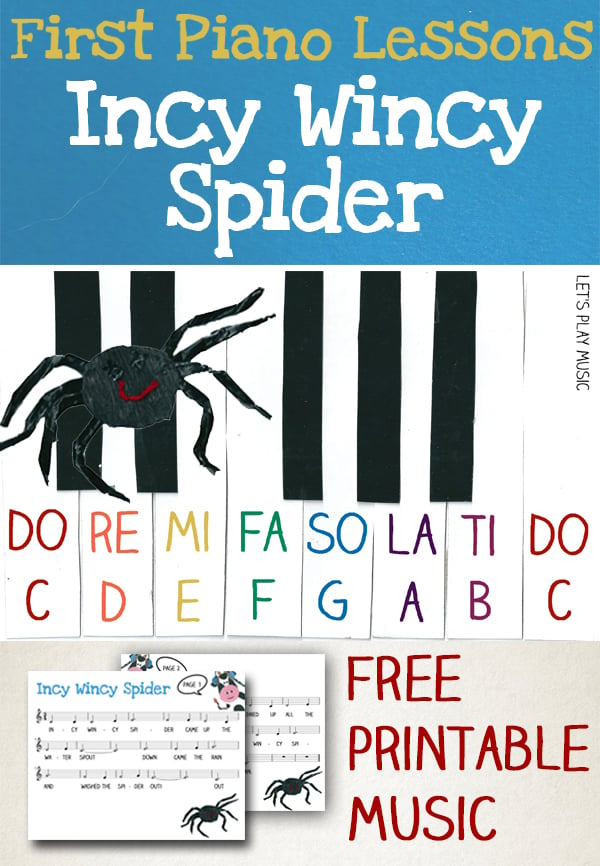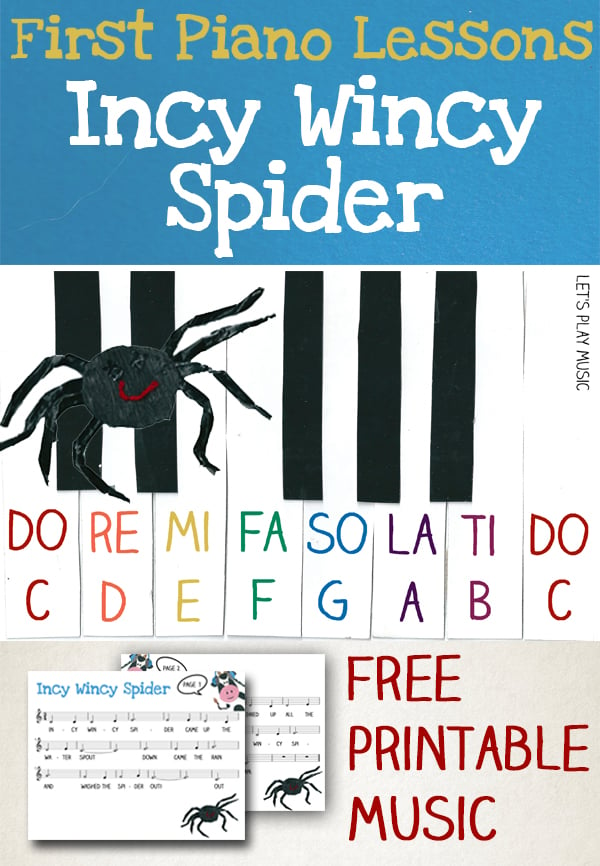 An excellent way to prepare for learning this piece, is to start with some chime bars or a xylophone. If you don't already have a set of these, it's really worthwhile investing in them to help your child learn to play and understand how to read music.
This invaluable resource can be used by toddlers up to teens, so you'll get plenty of value out of them! Small children can learn about intervals and how notes step and hop up and down by the physical movement of beater. They find the action of beating the notes much easier to pick up than learning to play piano keys with all 5 fingers.
Easy Incy Wincy Spider Easy Piano Music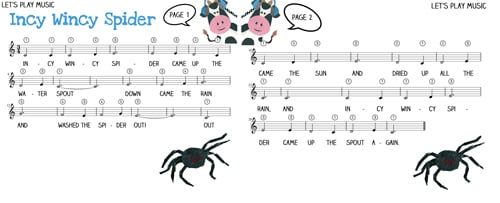 To print off click here or on the images above.
How to Play Incy Wincy Spider Easy Piano Music
1. If you do have chime bars or a xylophone, start by playing the tune to the child as you both sing it together. Play it slowly and demonstrate it line by line. Use the sheet music above, remembering that (1) is C on your xylophone. You can also check out a video of Incy Wincy being played on the chime bars here.
2. See if the child can start to copy the beginning by ear. It may be only the first phrase to begin with, but after a little practice, the child will start to see where the notes step up and down and where they are repeated.
3. Although you are also teaching them to read the music; listening, holding the tune in the head and then copying are all fantastic skills to develop and are an important part of learning to play an instrument. Gradually add a little more of the song as you go. Don't expect them to manage the whole song at once, this may take a little time.
4. Once the child has grasped playing it on the chime bars, you can suggest that you try to work it out on the piano. If you are new to reading music, or a complete beginner at the piano do check out my first piano lesson series which introduces the piano and basic theory specifically for young children.
Phrase By Phrase
5. Looking at the sheet music together, help the child to trace their finger along the line of notes as you sing the song once more. You can suggest that this is Incy's journey up and down the notes. Then play a little game of guessing if he is stepping up, down, or hopping over the notes.
6. Make sure the child can recognise the starting note of middle C, and ask them to place their right hand with thumb (1) on middle C. With the music in front of you, see if the child can attempt to play the song, gradually building it up line by line. Point to each note on the music as they try to play it.
7. A good way to help the child understand how to use the correct fingering, is to sing the phrase as you to gently touch the correct finger for each note in rhythm. Do this a phrase at a time.
8. Remember that little ones may find the whole song a bit too long, so don't expect them to be able to do it all at once. Always give lots of praise and encouragement, and if they become a bit frustrated or bored, take a little break and play a different game or exercise (see the first piano lesson series for some suggestions.)

If you enjoyed this post, check out my First Piano Lesson eBook and musical lesson plans which are full of musical games and activities to make music lessons fun!