Halloween has always been tremendous fun, all tied up with celebrating the Harvest, the Autumn and embracing the Seasons. We know this holiday is huge in the US of course, but in recent years there seems to have been a move to discourage the tradition of Halloween in the UK.
This seems a great shame, it is only harmless fun. Children love things to be a little bit scary – enough to make them squeal and run inside!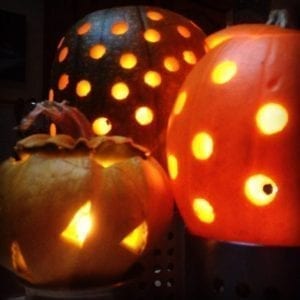 Kids always love the opportunity to get dressed up, and costumes for Halloween needn't cost anything. Bin-liner capes and old sheets provide plenty of options and face paints work wonders! Trick or treating should always be accompanied by an adult. The grown-ups can always keep back, but still keep an eye on everyone. And it's always best to stick to local friends and neighbours houses,or wherever there is a pumpkin lantern in the window.
Once children become teenagers however, it seems wrong for them to knock on doors demanding sweeties with masks on! Not quite the same as opening the door to little pumpkins and spiders.
Favourite Halloween Games
One particularly successful game, which we recreated every year was " The Witch's Cauldron". This happily occupies the older kids for hours in preparation (although it doesn't have to!) The eldest child can be the witch, and hides in a smaller room or ideally the garden shed, as it is more spooky at the end of the garden in the dark!
The preparation consists of gathering a collection of squidgey/slimey things e.g pickled onions, cold spaghetti, cold porridge, peeled grapes, there are endless possibilities! Each child is then blind-folded, and led to the witches lair, where they have to knock, wait to enter, and be invited to touch and feel all the suspicious ingredients for her spells in her cauldron! This will result in excited squeals of delighted disgust! (I recently found a list of suggestions for the game written by our next door neighbour's little girl when she was about 11 or 12.)
There are so many fantastic ideas for spooky food these days running up to Halloween, but here are a few things that went down rather well!