Eostre was the ancient goddess of spring, bringing new light and life to the world after the long dark sleep of Winter. And the Christian calendar borrowed her name for what is now the most important Christian festival of the year. When the long weeks of Lent give way to the dawn of a new Spring.
Easter is a festival of light, life and renewal. And the egg, as a symbol for this rebirth, is reflected everywhere in nature as all animals produce their next batch of young. The countryside awakens, bursting with life and renewed energy.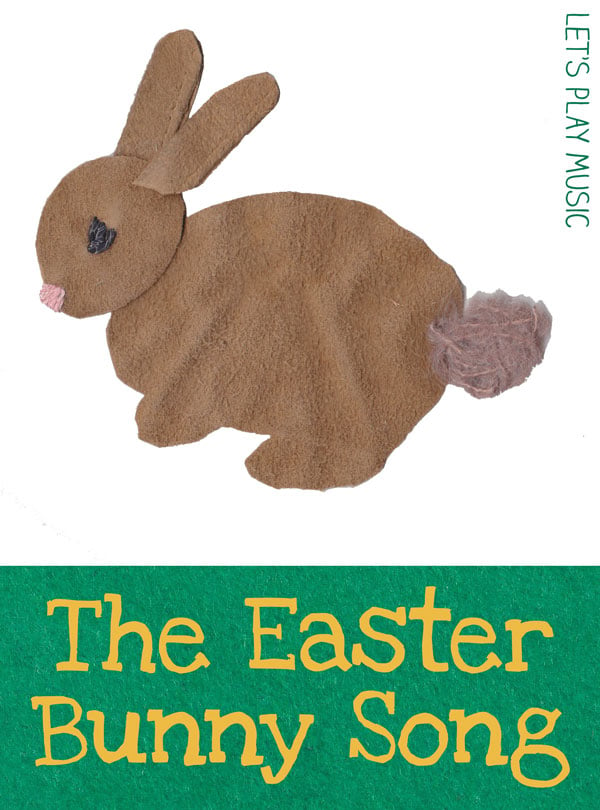 So on the morning of Easter Sunday we go outside to search for the arrival of this symbol of new birth. The Easter eggs may have been tucked into prepared "nests" left waiting hopefully or scattered by the Easter Bunny as he passes through on a trail of discovery.
The Easter Bunny Song can be sung either when going on an egg hunt together, or as a circle game at an Easter party. One child goes in and out of the windows, around the circle while carrying an Easter basket which is full of little chicks, bunnies, and decorated Easter eggs. When each verse comes to an end, the child passes the basket on so the next child has a go. It is full of the joys of spring, and who can resist hopping along to the catchy chorus?
The Easter Bunny Song
Daffodils and yellow Chickies
Lambs and bunnies hopping quickly
Sing a song of spri-ng – time
Soon it will be Easter!
*
Hoppity, hoppity Easter Bunny,
Hoppity, hoppity Easter Bunny,
Hoppity, hoppity Easter Bunny,
Ple-ase come to visit?
*
With our basket we'll go hunting,
In and out the Easter bunting,
Searching high, and searching low,
We hope we find our treasure!
*
Hoppity, hoppity etc.
(Sung to the tune of In and out the Dusty Bluebells)
Print off the Sheet music for Easter Bunny Song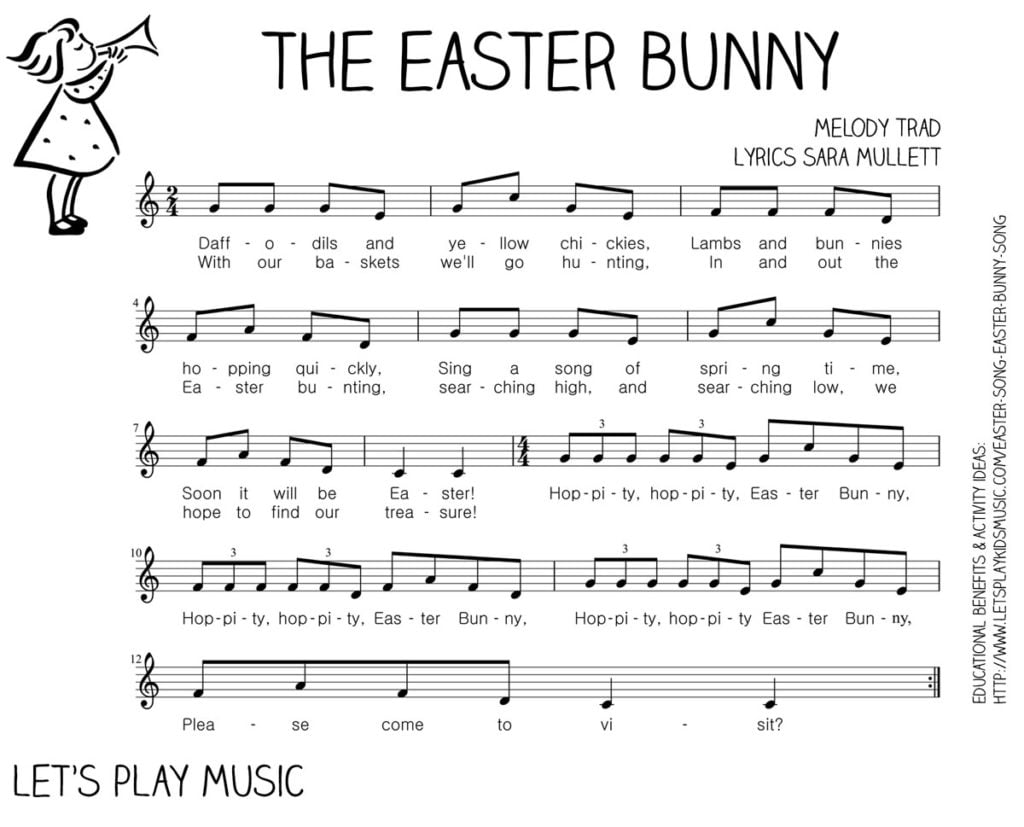 If you would like some Easter and Spring craft activities to accompany this song, check out our Spring Into Easter Pinterest board for lots of lovely ideas, you will soon fill up your Easter baskets with flowers, bunnies, chicks and decorated eggs!
These Easter Bunny masks are such a quick, cute craft! And they'd be perfect to wear while you're singing the Easter Bunny Song!????
Check out our Spring Lesson Plan for a 35 min structured music lesson full of fun Spring themed ideas or the Easter lesson Plan for plenty of bunnies and hot cross buns!!
If you enjoyed this post, come and join us on Facebook & Pinterest !
Get musical inspiration into your inbox!
Receive updates from Let's Play Music straight into your inbox!