Coconut Shells are great for making DIY Instruments! The clip clop sound that they make when they are tapped together is very satisfying and perfect for accompanying imaginary horsey play or our horsey songs.
Before you start playing the coconut shell clip clops, discuss the sound that horses hooves make and demonstrate how to make a clip-clop sound with the coconuts. If small children can't manage banging them together, then just clop one on to the floor sounds good too.
 How to make DIY Coconut Clip Clops
What you need:
Coconuts
Sandpaper
Ribbon (for handles)
A saw for cutting them in half – electric is best, but a hand saw will work!
When the shells are new, they are quite rough and fuzzy, so it's worth cleaning them up a bit with some coarse sandpaper to make them smoother to touch.
Making these is simple:
First drain the coconut milk from the inside by drilling two small holes where the natural 'eyes' are (where it was originally attached to the stalk)
Then cut the coconut in half, best done with a fine tooth saw for a smooth edge.
Scoop out the white coconut meat and save for later.
You can use two holes you made earlier to secure a strings which help you hold them and sometimes the pointed end is usually easy enough to hold on its own depending on the shape of your coconut!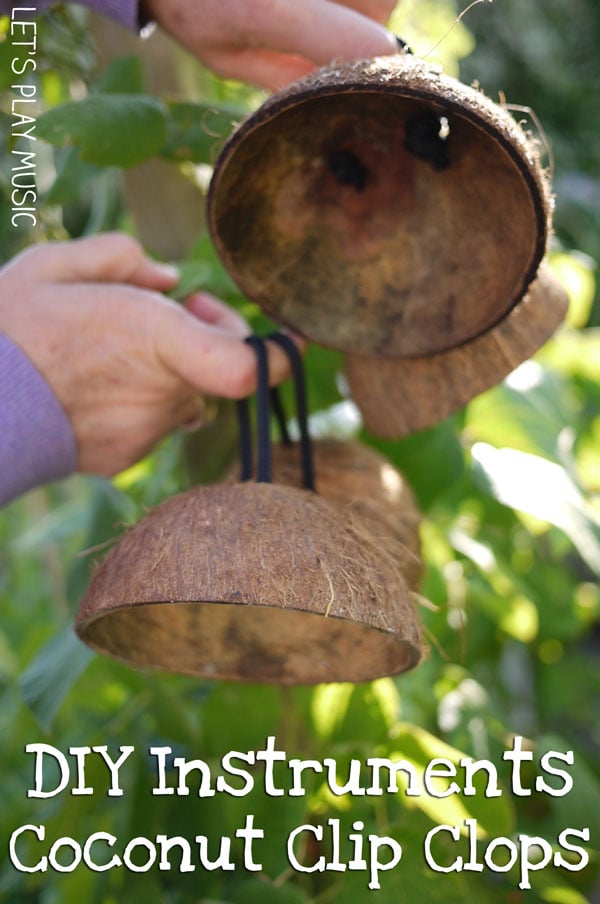 Now all you need is some horsey music! Trot Trot Trot, Horsey Horsey, Ride a Cock Horse and This Is The Way The Lady Rides. Alternatively you could put on some music and all play along with your coconut clip clops. A perfect piece to play along to would be the William Tell Overture.
Check out my Horses lesson plan for inspiration on how to use these Coconut Clip Clops with other related activities in a music lesson.
If you enjoyed this post, come and join us on Facebook, Pinterest and subscribe for many more musical ideas!