Short Christmas Action Songs For 2-4 year olds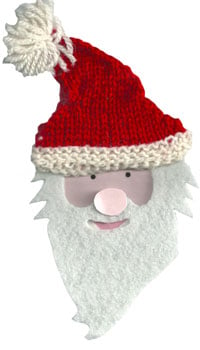 Often the more popular Christmas songs such as Rudolph the Red Nosed Reindeer and Jingle Bells are a little tricky for young children or toddlers to pick up. So here are some very simple piggyback songs that have simple actions ideal for 2-4 year olds. These are popular playgroup songs about Christmas Crackers and Christmas Puddings (which are typical English Christmas traditions!) and are brilliant for getting everyone to join in!
Christmas Pudding, Christmas Pudding,             (hold an imaginary bowl)
Nice and Hot (blow)  nice and hot, (blow)                   (blow on the hot pudding!)
Sprinkle on the sugar, sprinkle on the sugar,     (sprinkle imaginary sugar)
Eat the lot!  Eat the lot!                   (pretend to eat it & rub your tummy!)
*
Christmas cracker, Christmas cracker,           (hold an imaginary cracker)
In your hand, In your hand!                          (hold an imaginary cracker)
Hurry up and pull one, hurry up and pull one,     (mime an exaggerated pull!)
It goes BANG!  It goes BANG!     (clap hands loudly and shout BANG!)
(sung to the tune of Frere Jacques or I Hear Thunder)
Christmas day is coming soon,
Santa's on his way!
Bringing toys for girls and boys,
On his magic sleigh!
(sung to the tune of Row Row Row Your Boat)
(hold hands in pairs facing each other, just like in Row Row, but pretend to be in sledges whooshing through the snow!)
These short Christmas action songs for 2-4 year olds  are perfect to sing in a little group, great at parties or playgroups where you want to get everyone joining in and having some fun.  They borrow their tunes from other well known songs so they can be picked up quickly and easily remembered. Ask the children to choose a partner as these songs work well in pairs, this is so good for confidence building and learning teamwork. Sing the first two songs sitting facing each other, as they can pretend to pull a cracker together, and then they hold hands and whoosh through the snow on their magic sleighs!
What Christmas songs do you sing with toddlers in your home or classroom?
If you enjoyed this post, come and join us on Facebook, Pinterest and Google + or subscribe to our free bi-weekly newsletter for many more musical ideas!