Music theory can sometimes have a reputation for being a bit boring and difficult, but this can avoided by teaching it through games and activities that little ones enjoy. Children will happily accept basic theory concepts by playing games which combine the lesson with having some fun! They love characters and giving things identities, so when teaching the note values (how many beats they are worth) I always introduce them as a family. They often find this easier to grasp.
"Magic Feet Follow the Beat"
is a brilliant way to have some fun and blow off a bit of steam while learning and practising the concept of note values.
A Fun Way To Teach Note Values : Magic Feet Follow The Beat
The game is best played with a group of friends. You need a tambourine or drum, and a bit of space. "Blowing some magic" into the hands is a very good way to get everyone joining in and getting involved. Once they have rubbed the magic on their feet, they are really in the mood to stamp around like Daddy Semibreve, or march like Big Brother Crotchet. When they have got the hang of each different note and the sound and action it makes, you can experiment with making them guess which one you are playing and trying to catch them out!
You can use the printable below to hold up and show how each note corresponds to an action. We have both an American version (with whole notes, half notes, quarter notes and eighth notes) and a European version (Semibreves, Minims, Crotchets and Quavers). The concept of the note family applies quite easily to both.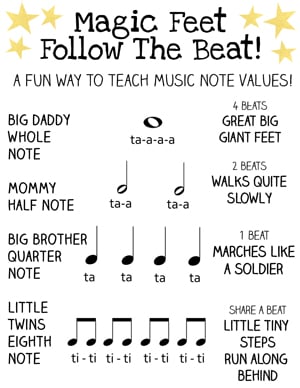 The children can take it in turns to have a go on the tambourine, and you can call out the notes by name (Mummy Minim etc) and see if they can make the correct beat to match the notes. They are so busy having fun, they don't realise that you are testing them!
Follow Sara @ Let's Play Music's board Teaching Kids to Read Music on Pinterest.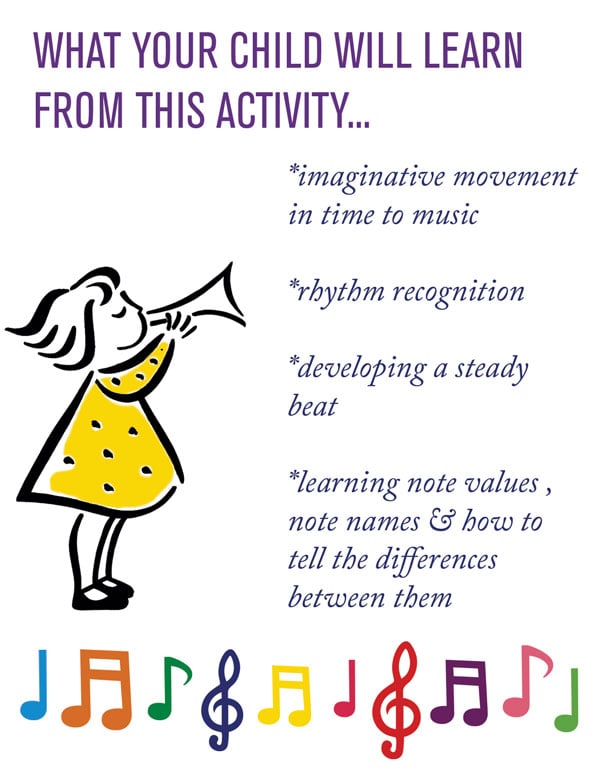 If you enjoyed this post, come and join us on Facebook, Pinterest and Google + or subscribe to our free bi-weekly newsletter for many more musical ideas!