Learning to read music can be rather daunting, especially to people who haven't had any music lessons before, and it is sometimes rather difficult to know where to begin. While it is important to realise that there is no quick fix,  when broken down into easy steps,  it is something that anyone can do with a certain amount of practise and determination. So in this How To Read Music made Easy blog, I hope to dispel a few myths, and possibly give enough encouragement for one or two new beginners to take the plunge and have a go.
When you start to learn music theory, it is usually because you are starting to play an instrument, and this is the best way to begin, as you literally learn to practise reading the notes as you play. In the early lessons you will be learning the note values, names and where they are placed, by practising very simple repetitive exercises that allow you to absorb the new information as you go. Remember that practise is always best 'little and often' and learning to read music, should be approached in the same way as learning to read words, with a clear strategy and gradual progression of level.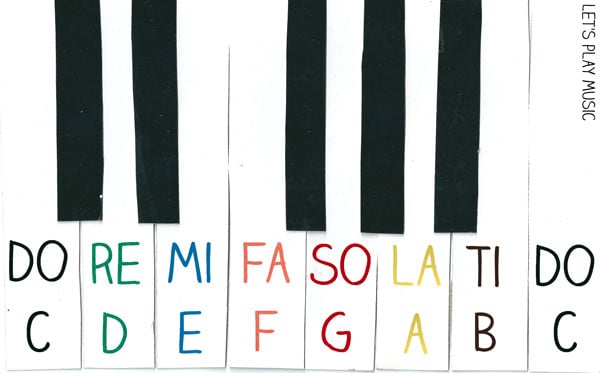 Even if you are learning to play a different instrument, it is never a waste to learn the notes on a keyboard, as this provides a good visual way to link the theory to a real sound, and to actually see the intervals (jumps between the notes) as you play and hear them.
How To Read Music Made Easy
1. Learning the note time values – This is a good place to start,  and depending on the age of the pupil, it can also  be taught by rhythm games or with The Clock Song,  which both explain all about basic notation in an accessible way. It is also a real bonus that they are such fun that children are very happy to play these games many times over!
2. Learning the names of the notes – I use an animal themed memory game to help my pupils remember the order of the notes. This is the best way for children to learn as it gives them a good visual trigger and is very easy to memorise. Older pupils have also found this method really helpful, and who cares, if it works it doesn't really matter if it is seems a bit babyish!
3. Do – Re – Mi – This very old method of learning to read music has lasted so long for the simple reason that it works! It also encourages the pupil to sing, therefore develop an ability to 'hear' the music in your head and anticipate how it sounds before you actually play it. So using Sol-fah (Do-Re-Mi) is an excellent method to use alongside the conventional names of the notes to build aural awareness and strengthen the musical 'ear'.

4. Understanding the Stave and the Clefs – The stave and clefs can look a bit scary! So it's important to explain it in simple terms, in a visual hands-on way, using the printable provided, and if possible in front of a keyboard. Just as words are written on lines, so are music notes. You just need more lines, because the notes go up and down, so we have the five lines of the stave.  Clefs are needed to tell you whether they are high notes (treble clef) or low notes (bass clef).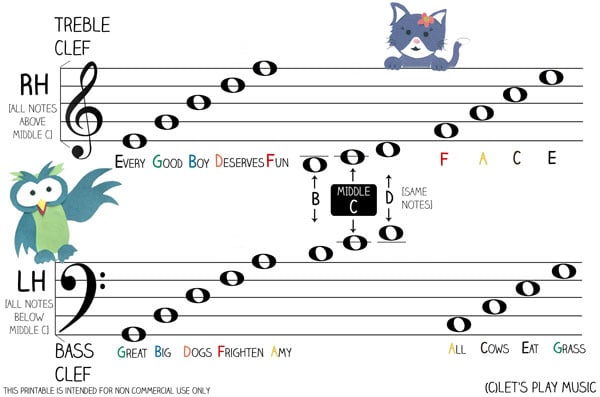 A good music lesson should practise all of the above elements, and as you learn to play the first pieces on any instrument, you will be learning to combine rhythm, notation and note recognition together without really realising it, as all of these things go hand in hand. When you first try to read a piece of music, it should be approached in a systematic way, always looking for all the visual clues and information before playing is even attempted. With young children, I always say they are being detectives, trying to solve a mystery.
Like learning any new skill, practice is the key, and this is particularly important with reading music. Just like learning to read words, with music you start with the basic simple elements and gradually and consistently build on that, increasing the length and level of difficulty as you progress. If you stick with it, it becomes easier, the more you do it the more naturally it comes and eventually we aim for it to be effortless.
If you enjoyed this post, come and join us on Facebook, Pinterest and Google + or subscribe to our free bi-weekly newsletter for many more musical ideas!